We here at Hard Drive owe so much to free speech, which enables us to write cutting edge, intellectual satire that challenges the establishment. It's also what allows you, the commenters, to openly share with us all of your thoughts and witticisms. That's why we thought it was only appropriate to reach out to known advocate of free speech Noam Chomsky in order to pick his mind about what really matters. Unfortunately, it did not go well: 
5. Noam Chomsky will not be appearing on the podcast at this time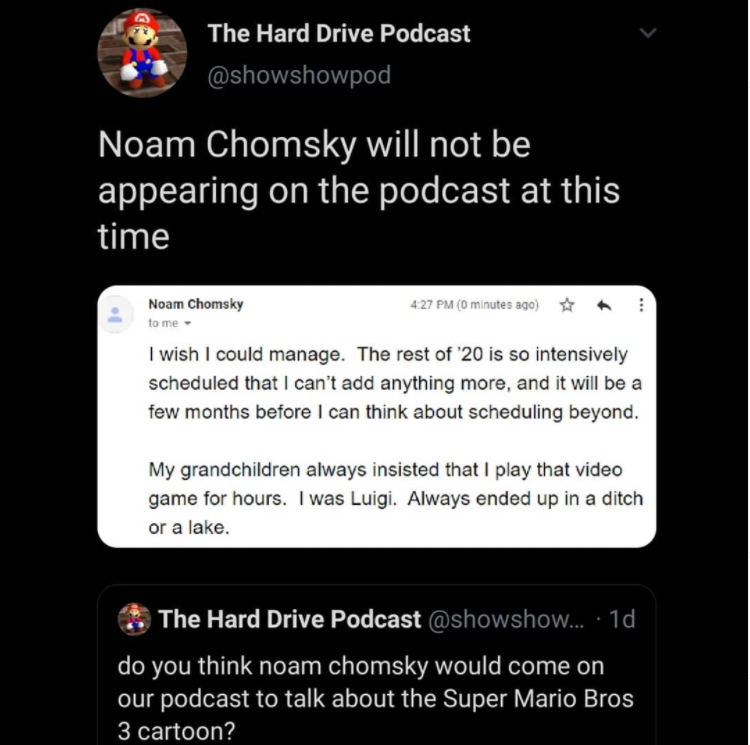 I think Chomsky is hurting too, Janut_li. But if you love someone, let them go. If they don't come back, they never cared about the Super Mario Bros. 3 cartoon (or they're in a ditch or a lake). If they do come back, make them watch Mario cartoons forever.
4. Speedrunner Doesn't Believe Girlfriend's Tool-Assisted Orgasm Valid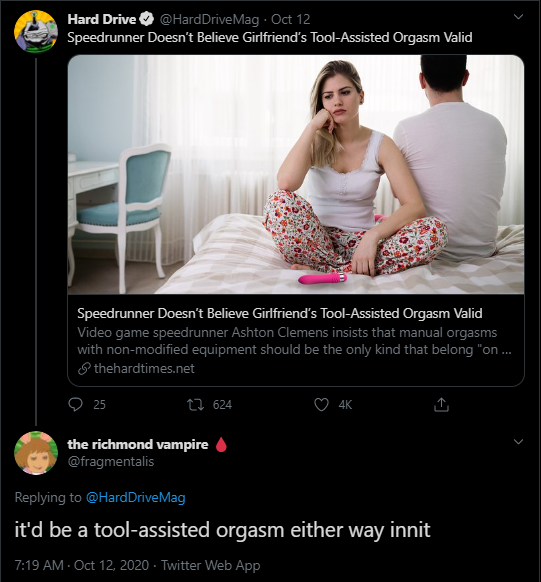 That implies that he'd be able to make her orgasm in the first place. I get it though, poor upper body strength is a real run killer. Just remember to always play through if you lose momentum, a personal best is better than just quitting altogether. 
3. New Gender-Inclusive USB Standards Rename Connectors to Dom and Sub

Lifehack: if you can't afford a flogger, but need one right away, just take everything out of your unused wire drawer and wrap it around a cardboard tube! Your sub won't know the difference, and you'll be glad you held onto the charger for your iPod classic for over 10 years. And if you want to get extra kinky, just leave the iPod on the charger. 
2. 6 Awesome 'Street Fighter' Moves to Try Out on Your Younger Brother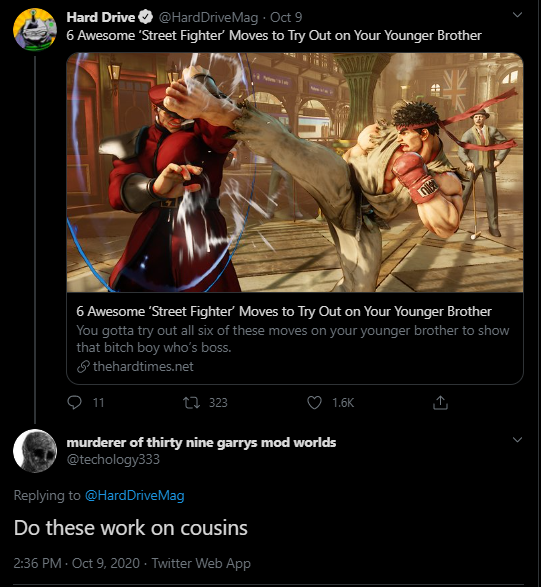 We hadn't tested that before we published the article, so we had our Hard Drive intern Michael test these moves out on his cousin. Michael did win the fight, but his cousin did press charges and he was arrested for assault and battery. So to answer your question, yes and no.
1. 6 Awesome 'Street Fighter' Moves to Try Out on Your Younger Brother

I think it's actually for the best you didn't have a younger brother.
Thank you so much to everyone who commented this week! If it were up to me, you'd have the right to free games as well as free speech — but we're far away from that gamer utopia. If you want a chance to be featured in next week's column, be sure to leave a comment on any of our posts across social media. Have a great week everyone!